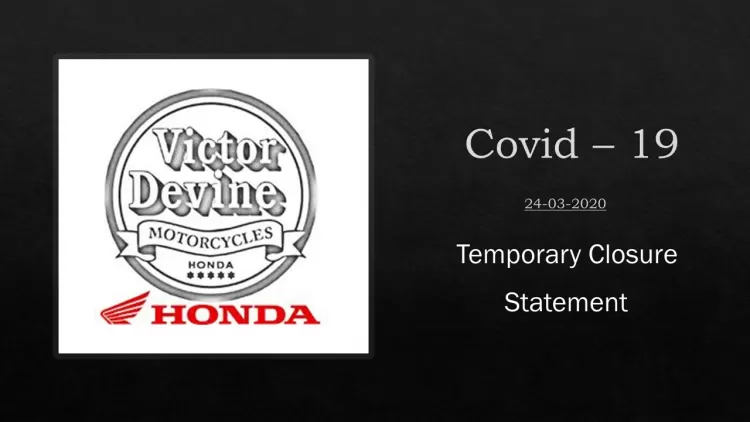 Dear customer,
At Victor Devine Motorcycles we have a deep responsibility to our staff and customers, and as the need to support social distancing increases and following the most recent government direction, we are now obliged to temporarily close our premises with immediate effect.
Regrettably effective immediately we will no longer be able to provide you with any of our usual services. If you are in the process of buying a bike from us a member of our team will be in touch with you very soon if they have not already. If your bike is currently in our workshop we will endeavour to get it completed and return it to you as soon as possible. If you have a booking in our workshop we regret that this will now be cancelled. If you have ordered parts, clothing or accessories and have been advised that they have arrived, please email info@victordevine.com for assistance. Please note that our shop is not open for any business. Until we are advised that it is safe to reopen by the government, we will remain closed for the protection of everyone.
We will endeavour to keep everyone up to date through social media, email and our website of when we are likely to reopen and any other relevant information.
Please note that we no longer have staff available to answer phones. Please contact us through Facebook, email or the contact form on our website.
Hopefully, the worst of this pandemic will pass in the near future and we will be able to resume our full service. Until then, please take care of yourselves and your loved ones and stay safe.
Best wishes.
Victor Devine Motorcycles Team.